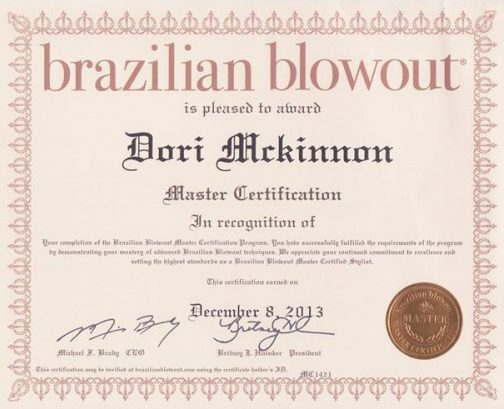 We are a Certified Specialists with Brazilian Blowout. Women with curly, frizz, wavy, kinky hair now have a safe solution that results in a frizz free style.  Brazilian Blowout can gave you a frizz free summer shine that will last up to 3 or 4 months. This is not a permanent straightening but a natural keratin treatment to your hair. It will not completely straighten the hair.
It will give you wash and wear hair!
Brazilian Blowout is affordable, leaves hair in great condition and it is free of formaldehyde.  It is not a relaxer or a straightener for both use harsh and damaging chemicals to change the texture of your hair. This method washes away with time and is diffused so there is no noticeable difference between new hair and treated hair. Brazilian Blowout is a revolutionary treatment that will soften and smooth out your hair.  This treatment involves a few steps which will take up to 1to 2 1/2 hours to complete, this will depend on the thickness and length of your hair.  First we wash with clarifying shampoo your hair. Then we will apply a keratin solution made with active keratin (a protein that is similar to the component of  the hair.)  Then we dry the hair and use a 450 degree iron to seal the formula onto the hair.  The solution bonds to the  hair's rough edges of the cuticles.  This will trap the moisture in the hair and create a glossy veneer shine to your hair.
CARE: No down time you can get wet right away. You must USE A SODIUM-CHLORIDE FREE SHAMPOO to get the Brazilian Blowout to last it full time.  This is also a great care free treatment for childrens hair.
NO MORE BAD HAIR DAYS!