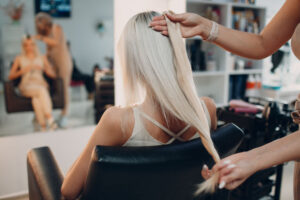 Hair extensions have become increasingly popular, offering a quick and convenient way to enhance your natural hair. However, choosing the right hair extension for your specific hair type is essential to achieve a seamless and natural look. In this guide, we'll explore different hair types and recommend the most suitable hair extensions for each one.
Fine or Thin Hair
Fine or thin hair can benefit from lightweight hair extensions that add volume and length without weighing down the natural hair. Opt for tape-in or clip-in extensions, as they provide a discreet application and blend well with fine hair textures. These extensions can be easily adjusted and removed, allowing flexibility and comfort.
Thick or Coarse Hair
For those with thick or coarse hair, choosing hair extensions that match the texture is crucial for a flawless blend. We recommend sew-in or micro-bead extensions, as they offer durability and a secure attachment. These extensions can handle the weight and density of thick hair, ensuring a seamless integration with your natural locks.
Curly or Textured Hair
Curly or textured hair requires extensions that mimic the natural curl pattern to create a harmonious blend. Look for curly or wavy extensions, ideally made from human hair, as they can be styled and matched to your unique curls. Clip-in or weave extensions are excellent options, allowing you to experiment with different styles while maintaining the natural curl pattern.
Damaged or Chemically Treated Hair
If your hair has undergone chemical treatments or is prone to damage, it's essential to choose extensions that minimize further stress on your hair. Consider tape-in or halo extensions, as they provide a gentle application method that doesn't require excessive heat or chemicals. These extensions offer versatility while protecting your natural hair.
At Stylistics Inc., we offer a wide variety of hair extensions to our customers. If you're in the Phoenix, AZ., area, call us today at 602-234-3381.