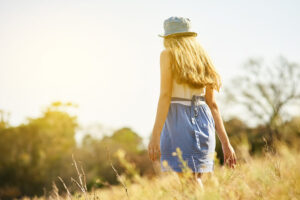 As spring weather approaches, you may want to make some changes in your everyday life. New seasons give us opportunity to switch up styles and looks, especially when it comes to hair. A fresh new hairdo is the perfect asset to welcome the spring season.
Get your hair trimmed
To start off, getting a hair trim is ideal. Winter often makes hair look dry and dead. Getting rid of those split ends will make your hair look and feel ten times healthier! Using a moisturizing product after trimming will bring your hair back to life. In fact, if you're feeling adventurous, chopping off a few inches or trying a dramatic new style might be the right change for the new season. A choppy bob haircut is perfect for a light airy spring vibe, and will modernize your new look. Highlights may make your hair appear to have more texture as well. Shorter hair won't make you feel too hot in the warmer weather, too.
Invest in a protein conditioning treatment
If you're hair is dry and suffering from the aftermath of winter, or you are slacking in your hair treatments, you are not alone. You may want to invest in a protein conditioning treatment, which can provide many benefits to your hair, and keep it looking healthy and lively. Hair treatments should be done at least once a month.
Switch up your products
Another great way to switch up your look is to switch up the products you are using. A new season is a wonderful opportunity to get to use those new products you've been dying to try. Trying different types of conditioners and sprays may lead you to discover the perfect product for your new look. Changing up your hair routine with new products such as volumizing mousse can help you provide for your hair what it needs to keep it looking fresh and full of life.
Here at Stylistics Inc., we want everyone to have healthy hair this spring. To learn more about our services, contact us today.