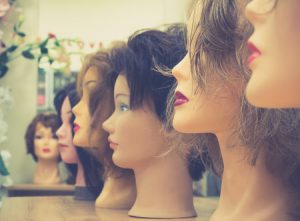 With the possibility of losing their hair during treatment, many chemo patients decide to shop wigs. Not only does a wig help you look your best, but hopefully feel your best, as well.
If you're unsure of where to begin, we've compiled a few tips that will make choosing the right wig for you, a breeze.
1. Decide your budget first
The cost of wigs can run the gamut, so it's a good idea to figure out a price range of what you're willing to spend.
Do some homework on the different types of hair, the seasonal effects, etc.
2. Consider the material
Typically, wigs are made up of two materials: synthetic fibers or human hair. Sometimes they're made up of a combination of those two. The most popular type of wig for women undergoing chemo is a blend of 70 percent synthetic fiber and 30 percent human hair because they are lightweight, adjustable, and affordable.
3. Find a salon
Seek out a quality salon that knows how to help those with cancer.
They will help you find a wig similar to the cut and style that you have now or lead you in the right direction if you want to try a totally new look.
At Stylistics, we are dedicated to finding chemo patients a wig that will help boost confidence and increase comfort while undergoing treatment. One-third the price of a 100 percent human hair wig, chemo wigs are an affordable and comfortable solution for short-term hair loss.
Give us a call at 602-234-3381 to learn more about this system and schedule an appointment today!