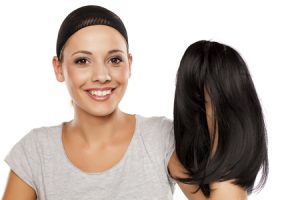 When you're going about your day, the last thing you want is for your wig to start slipping. It's a huge part of your look, so you need it to stay in place, but how?
Here are a few ways to keep your wig from slipping:
Wig Tape
As a double-sided adhesive, wig tape sticks to your head on one side and your wig on the other, helping your 'do stay in place. To use, cut the wig tape into several strips, and place the strips on the perimeter of your hairline. Start at the front of your head and work towards your neck. After you remove the paper from the side of the tape facing up, place the wig on the tape and press firmly to hold.
Wig Glue
Wig glue is a good option for people who don't have natural hair, as it is pretty strong and could damage your hair when removing the wig. This adhesive option is typically a roll-on, clear glue. Just apply the glue to your hairline and place your wig on top, gently pressing the wig down. Wig glue ensures your wig stays in place all day and is easy to remove with just a little water.
Bobby Pins
Good, old-fashioned bobby pins work well for people who have some natural hair to work with under the wig. Simply attach your wig to your own hair using bobby pins. Purchase bobby pins that match the color of your wig, so the pins do not stand out under your hair. Place the wig on your head, and lift small sections of the wig, using the bobby pins to secure the wig into your own hair.
Wig Caps
A great choice for those with or without hair, wig caps sit on top of your head underneath your wig, gripping to your skin and keeping your wig in place. Wig caps help existing hair to stay in place and keep your wig from moving or slipping. Place the wig cap on and smooth out any air pockets; when ready, pull on your wig.
Try out the Follea Gripper Cap from Stylistics, Inc.! It's a self-gripping cap offering a thin, comfortable coating made of Swiss lace.
WiGrip
The WiGrip eliminates the need for adhesives and fasteners without sacrificing comfort and security. It not only protects the edges of your wig but helps eliminates balding spots that can be caused by wig clips, giving you peace of mind that you will always look your best. Stylistics Inc. carries the comfort band WiGrip and the lace front WiGrip, which is the ideal choice for those who want a seamless hairline and part—and who doesn't?
Feel lightness, breathability, and comfort while keeping your wig secure! For more information on which products may be best for you, contact Stylistics today at 602-234-3381 or stopping in to our full-service salon in Central Phoenix!