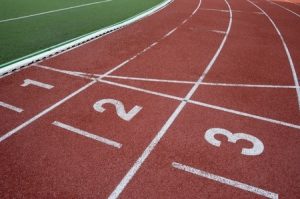 Wigs are a regular part of life for many people, and celebrities and athletes are no exception.
Many athletes wear wigs for sporting events, and most of the time, people are totally unaware that athletes are even wearing a wig to begin with.
Several days ago a hurdler for the United States, Jasmine Stowers, took a bad fall during a 110-meter hurdle at the 2017 Müller Anniversary Games. Although she got off to a good start, after what looked like a misstep, she stumbled over two hurdles before falling to the ground. She hit her head pretty hard on the track, blacking out for several seconds.
Stowers ended up having injuries, including a small concussion. However, the press focused on the fact that her wig fell off as a result of the fall. Instead of her injuries, the media focused on how her appearance was "compromised" as a result.
Stowers was asked if she felt embarrassed about losing her hairpiece in public and Stowers said, "No, I am not embarrassed that my wig came off. I hit my head hard and I would have expected that to happen. It is what it is. I will continue to wear wigs, I am truly unbothered!"
Stowers reaction to all of this was admirable, and hopefully, something that wig-wearing women can look up to. Stowers expressed that wearing a wig is nothing to be embarrassed about, even if it falls off in public.
Although most of the time wigs are extremely secure, accidents happen. Stowers is a power athlete and due to a hard fall, lost her wig. She was focused on her injury and addressing her concussion. Losing her wig was the least of her worries, regardless of the media's focus on it. We believe that Stowers is an inspiration to all wig-wearing women.
Are you looking for the wig that best suites you? Visit Stylistics, Inc.