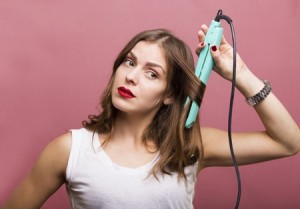 Especially if you are new to wearing a wig, it can be a struggle to embrace the change and feel confident with your new look. Confidence is key when it comes to hair replacement, so style your wig with pride and provide yit with the care it requires to make your experience a positive one.
Change Things Up
Hair replacement technology has improved greatly in recent years, with many wigs able to hold up to the heat required to curl or straighten them. Just because you are wearing a wig, doesn't mean you have to stick to the same style every day, so change things up with headbands, braids, ponytails and any other 'do you love!
Depending on the length of your hair replacement piece and its design, there can be endless styling possibilities, allowing you to change up your hair depending on your mood and the activities you will be doing throughout the day.
Provide Proper Care
To ensure your hair replacement piece maintains its beautiful, natural look, follow proper care instructions when washing and storing. Using the right products on your wig will greatly extend its life and keep it looking its best for a natural look that instills confidence.
Own Your Style
Just like it is important to keep your hair replacement piece looking its best, it is also important to wear your wig with a positive attitude. Even if you aren't actually feeling confident, walk tall, put a smile on your face and fake it until you actually feel it. Wearing a wig is a big adjustment to make, but with the right attitude and some styling, you will feel proud and confident showing off your beautiful and full head of hair!
Customize Your Cut and Color
Trimmed to frame your face and colored to match your skin tone perfectly, a customized hair replacement piece will make it feel more natural and completely "you".
Stylistics is happy to help you create a beautiful look that instills confidence, assisting you every step along the way. From purchasing the right style wig for your lifestyle to customizing its cut and color, Stylistics offers a full range of services for individuals suffering from hair loss. Learn more online or contact the Phoenix, Arizona shop by phone at 602-234-3381 to schedule an appointment.