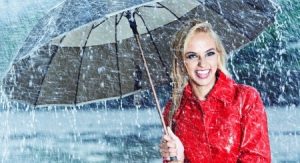 Although Arizona doesn't have as many April showers as other states do, we do still experience rain on occasion and especially in our summer months during monsoon season.
We have talked a lot on our blog about the importance of caring for your wig in severe weather, and rain is no exception. Rain can fall in the form of a soft shower or a severe thunderstorm, and it's important to understand how to protect your wig from rainfall.
Caring for your wig will help preserve the lifetime and the overall appearance of your wig so it's important to do your part to protect it when possible.
Keep the Wig as Dry as Possible
The best thing you can do for your wig, if you're stuck outside in the rain with it on, is to prevent it from getting wet. Purchase a big umbrella that will cover you and your wig. If an umbrella isn't an option, you can wear a hat to prevent the wig from getting wet at the roots.  A silk scarf is also a great option and can easily be wrapped around your head. It is light enough to carry with you wherever you go and it can also be used as a fashionable accessory.
Don't Use Heating Tools
If you finally get home and you see that your wig did get wet, it can be really tempting to use a hair dryer on your wig in order to get it dry. However, avoid doing so at all costs. You should only be air drying your wig in the event that it does get wet. Heating tools can damage the fibers of your wig, making it brittle.
Immediately Wash It
It might seem odd that washing your wig is a solution for getting it wet, but it's true! If your wig does end up getting wet, you should wash it with a proper shampoo which can help clean the wig and prevent the rain water from sitting and settling.  Again, after you wash the wig, make sure you give it enough time to air dry.
Stylistics, Inc. is a full service hair salon located in central Phoenix, AZ, offering a wide variety of services for individuals suffering from hair loss.