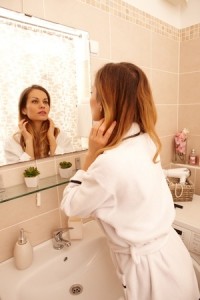 A major thought to take into consideration when trying on wigs is the shape of your face. Choosing a wig that frames your face perfectly will ensure the most natural look possible, boosting your confidence and allowing you to perform all your daily activities without having to worry, "Does my hair look ok?"
So how do you know what wigs suit your face shape the best? Stylistics has some simple advice for you to follow. Start by identifying your face shape from the list of options below. We recommend tracing an outline of your face onto a mirror or studying a photograph of yourself to do so.
Heart Shaped
Chin-length styles are especially attractive when paired with a heart shape face, as they add fullness to the narrowest area of your face, creating a balanced appearance. Longer styles with subtle layers and side swept or wispy bangs are also attractive options.
Oval Shaped
Show off your face's balanced proportions by steering away from bangs and other styles that work to cover areas of the face. Look for wig styles that accentuate your favorite facial feature and have straight or wavy hair.
Rectangular Shaped
Add fullness to your features with bangs and soft waves or curls. A shoulder length or shorter wig will maintain your face's proportions without causing further lengthening, as will wigs with long layers.
We also like the look of wigs that are parted to one side, adding width to a thinner face.
Round Shaped
To accentuate a round shaped face, look for wigs that are longer than chin-length. A wig that add fullness to the crown of the head and has an off-center part will lengthen the face, instead of widening it like chin-length layers and cuts can.
Square Shaped
Similar to the round shaped face, the square shaped face looks best with a wig that adds height and volume to the crown. A longer wig with curls will soften the angles of the face in a flattering way.
Searching for a wig that perfectly accentuates your face shape and personal style can be difficult, and no wig will be 100 percent "you" without a bit of trimming and styling. For assistance finding your dream hair replacement piece, schedule an appointment with Stylistics today.
Located in Phoenix, Arizona, the full service salon offers all the services that go along with cylinder hair. For more information, call 602-234-3381.
Sources: http://www.ebay.com/gds/How-to-Choose-the-Perfect-Wig-for-Your-Face-Shape-/10000000177632143/g/