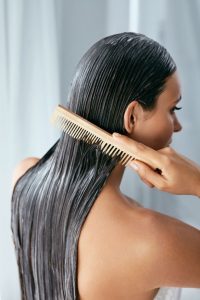 Now that most people across the country and the world are spending their days indoors, everybody is looking for ways to occupy their time. During this time it can be easy for people to neglect their usual self care routine, especially without the convenience of professional services. Although it is not yet possible to go outside for beauty and hair care treatments, you can still treat yourself with items found in your home.
Check out this easy tutorial for an at-home hot oil treatment:
A hot oil treatment is a great way to moisturize your scalp, restore shine, and help prevent split ends. 
Be sure to start with freshly washed hair that is slightly damp. It is best for your hair to be clean so the oil can penetrate the hair shafts and scalp.

Prepare the oil. There are a variety of oils that can be used for a hot oil treatment, here are some of the options:
Coconut Oil– This is a great conditioning oil especially for dry damaged hair. 
Almond Oil– The essential fatty acids in this oil help to moisturize the scalp and help the hair become soft and shiny.
Castor Oil- This oil contains ricinoleic acid and omega-6 fatty acids which help aid in blood circulation and stimulates the scalp.
Choose one oil, or combine a mixture of them into a 6oz applicator bottle. 

Bring a cup of water to a boil. Turn the heat off and pour the water into a bowl. Now place the applicator bottle in the water and let it sit for 10-15 minutes. 

Take the container out of the water and test a small amount of oil on your hand to be sure it is not too hot. 

Now, begin applying the oil to the scalp and combing through your hair to distribute the oil. After the oil is fully distributed, massage your scalp for a few minutes. This will help stimulate the scalp and aid in hair growth. 

Let the treatment set for 20-30 minutes, then use a conditioner and rinse out your hair. 
We hope this treatment helps moisturize and strengthen your tresses while you are in between treatments from your professional stylist. 
Stylistics, Inc. in Phoenix Arizona specializes in maintaining hair, dealing with hair loss, and hair replacement services.
Be sure to check our blog for more natural hair care, and wig care tips!