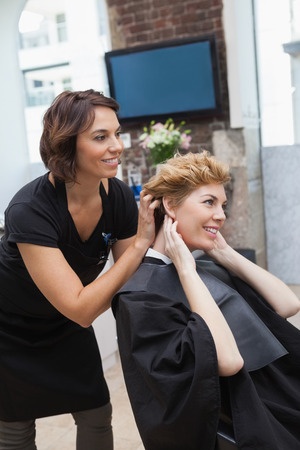 Regardless of the cause, hair loss can be a stressful and embarrassing situation. There are many options to consider when searching for a hair replacement solution and here at Stylistics, Inc. we can help you find a natural-looking, high quality option to fit your lifestyle and budget.
Whether you are looking for a wig, hair add-on or extensions, Envy Wigs and Hair Add-Ons has the thick, beautifully colored hair you are looking for. With a variety of real and synthetic options, as well as open top, mono top and lace front styles, there is a hair piece that will fit your needs and help you to feel beautiful and confident.
While Envy does carry a human hair line, they also have a unique line made of human hair and heat friendly fibers. Hand-tied into a light silk chiffon cap, this option can withstand high heat and provides a cooler comfort than 100 percent human hair options. A great choice for sensitive skin and designed with a natural look and feel, lightweight Envyhair can withstand temperatures up to 356 degrees Fahrenheit – meaning you are free to curl or straighten your hair whenever you feel like a different look!
All wig styles are designed with breathability in mind, and the mono top and lace front options are even created with wispy hairs around the face. Designed to create a natural-looking part, Envy wigs mimic your natural hairline, creating a natural and realistic appearance.
Envy also boasts 25 color options, including basic and highlighted versions.  With shades of black, brown, grey, red and blonde, we can match your wig to your natural color or find a shade that feels "you."
Call us at 602-234-3381 to set up an appointment and discover your perfect fit!