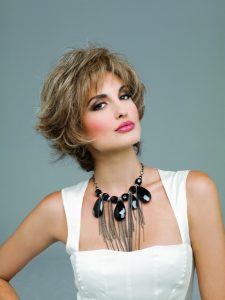 With Breast Cancer Awareness month in full swing, it is important to recognize how various types of cancer affect our lives daily. The number of people living with a cancer diagnosis reached nearly 14.5 million in 2014 and is expected to rise to almost 19 million by 2024. With numbers this high, cancer typically plays a role in our life at some point or another. Whether you have personally faced cancer or you know a loved one that has faced it, you likely recognize the side effects that come with cancer treatments.
Many people that suffer from cancer experience hair loss due to chemotherapy sessions. Many people that are treated with chemotherapy have a high chance of facing hair loss during their treatments. Women reported hair loss as a side effect of cancer treatment that they fear the most. However, there are solutions to medical hair loss that can help lighten the burden of those fears.
Wigs are a realistic and practical option for women facing cancer and hair loss. Many women are hesitant to use wigs because they think it may look unnatural. However, if you purchase a wig that is the correct style for you, the best fit for you, and the best brand for you, the wig will appear to be completely natural.
Stylistics, Inc., carries a brand called Envy Wigs that are intended to be wigs for chemotherapy patients. These wigs come in a huge variety of cuts, lengths, styles, and colors and are ideal for women facing chemotherapy treatments. Whether you want to replicate your natural hair or change it up and go in a different direction, these wigs will allow you to do that through your treatments. Envy wigs will allow you to create the color, cut, and style of hair you desire to have, making the thought of wearing a wig exciting.
Many of the Envy wigs are lightweight in style and are lined with silk which offer a comfortable fit for the women that wear them. The Envy wigs are designed for medical hair loss. They are hand-tied with a silk chiffon lining which will never irritate the scalp underneath the wig. The wigs consist of both heat-friendly fiber and human hair which makes them easy to style, cool, and comfortable on sensitive scalps. Envy wigs also have eco-friendly packaging and marketing materials, which is always a plus.
Stylistics, Inc., provides a private and caring atmosphere for any cancer patients that are looking to get fitted for a wig and they carry Envy wigs which are ideal for cancer patients.  We understand that it facing cancer treatment is an emotional experience and we will provide the hair loss solution specific to you and your personal needs.