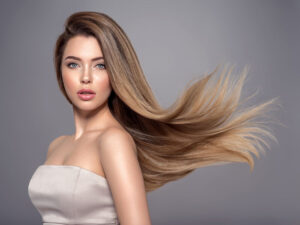 By now, you likely have heard of a Brazilian Blowout and its amazing ability to transform frizzy, unruly hair into radiant and manageable locks that you can be proud to show off. However, nine times out of ten, we find that most of those who have heard about the treatment, still don't really understand how it works.
Having featured this service at our salon for quite some time now, we wanted to make it a point to address the many questions that may be lingering around the idea of getting a Brazilian Blowout:
Is it safe for my hair?
A Brazilian Blowout is a 100% formaldehyde-free treatment. Contrary to popular belief, this is not a relaxer or straightener; there are no harsh or damaging chemicals used throughout this particular process, so you can rest assured that you will walk away with beautiful, healthy hair.
Is this treatment going to make my hair straight?
It all depends on the texture of your hair. If you have naturally curly hair, a Brazilian Blowout is going to provide you with a wavy or soft curl look with minimal frizz. Those who have naturally wavy hair are the ones who will be left with straighter hair after the treatment.
How long does the treatment last?
A Brazilian Blowout will last up to 3 to 4 months. The method washes away with time and by the end, there will be no noticeable difference between your new, natural hair and your treated hair.
Does my hair require any special care after getting a Brazilian Blowout?
If you want your treated hair to last for the full time, we highly encourage you to use a sodium-chloride free shampoo. Ask your certified hair technician for advice on which she would recommend. Other than that, you're free to treat your hair any way that you normally would.
With all of that in mind, the greatest part about this particular treatment is that our Certified Specialists can give you the professional quality Brazilian Blowout you're hoping for, at an affordable price. Contact Stylistics Inc. today for more information – we'd be more than happy to help you decide if this is the right method for you!