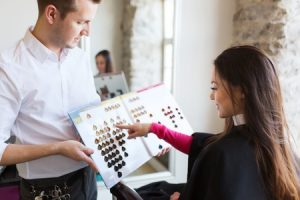 Although it's hard to believe, September is already here. And with the fall season quickly approaching, it is important for us wig wearing ladies to start making appropriate changes to our hair care routines. Just as we have to protect our hair replacement pieces from chlorinated pool water and the sun's harmful rays in the summer, we must also protect our hair pieces (and scalps) from the drying effects of fall and winter weather.
Depending on your preferences, now may be the time of year that you pull out a darker colored hair piece with a thicker wig cap from your closet. You also may be interested in having some low lights added to your current favorite hair replacement piece, which can be done right here at Stylistics. Whatever beauty decisions you make, the most important thing to do is stock up on your favorite conditioner and use it regularly! This will help to keep your wig from drying out as the crisp autumn afternoons turn into blustery winter nights.
Of course, the natural hair and scalp beneath your wig are just as important as your hair replacement piece, so be sure to show them some extra love too. A dry, itchy scalp will make even the softest lace wig uncomfortable to wear.
For all your hair replacement needs and questions, Stylistics is here to help! A hair salon fully focused on wig care, we can provide for all your hair-related needs, including cuts, coloring and wig fitting. To schedule an appointment to get yourself ready for the fall season, please call 602-234-3381 today.