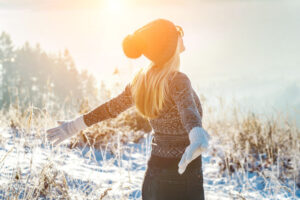 As the fall weather grows cooler here in Arizona, we are reminded of how important it is to protect both your natural hair and your hair replacement piece from the cold, dry winter weather. Keep your hair and wig well moisturized this season to maintain the beautiful, full locks that you love and a healthy head underneath.
Wash and Dry
To keep the hair on your wig from drying out, we recommend paying attention to how often you wash it, only doing so when needed. As always, sulfate free shampoo will keep your human hair wig looking its best. While you should always fully dry your wig before leaving the house, this step is especially important during the winter months, since cold temperatures cause greater damage to wet hair. Condition your human hair wig after washing to keep it moisturized and frizz-free.
Keep Hair Covered
Another way to keep your hair replacement piece protected throughout the winter months is to keep it covered when you are outside. Avoid the troubles of dry, frizzy hair by wearing a cute hat or covering up with a scarf for protection from the elements. You'll feel much warmer and your hair will stay stronger and healthier.
Invest in a Humidifier
Heating our homes in the winter causes the air inside to become dryer, damaging our wigs and natural hair. One way to keep both healthy is to invest in a humidifier to add moisture to the air. When you take off your wig, place it on a wig stand in the same room as the humidifier to keep it hydrated throughout the night.
Whether you are interested in learning more about the different brands and styles of wigs we offer or would like to have your wig colored or trimmed for a new winter style, contact Stylistics, Inc. today! Call us at 602-234-3381 to schedule your appointment.