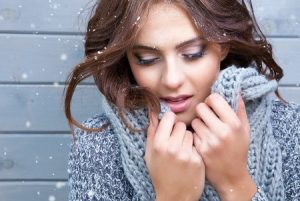 Although Arizona doesn't experience harsh winters, our temperatures still drop during the winter months. For a large portion of the country, snow flies and temperatures dip well below freezing. When winter weather occurs and temperatures start to fall, our wigs are put at risk.
Here are some helpful hints on how to care for your wig this winter:
Keep It Moisturized
Focus on using wig products that will keep your wig moisturized and prevent it from getting dried out. Winter weather makes our skin, lips, and even our hair, grow incredibly dry. Cold air is also dry which cause wigs to become brittle, resulting in breakage. Make sure you are using a wig shampoo and conditioner at least once a week on your wig during winter months.
Keep It Dry
Going outside with your wig wet is never recommended. However, in winter months when temperatures are much colder than normal, it is really not recommended. The wet hair from the wig sitting on your head combined with the cold air outside can easily make you sick. The wetness of your wig mixed with cool air will also contribute to a brittle wig which is something you want to avoid.
Keep It Deeply Conditioned
Make sure you stock up on the hair products you'll need to get you through winter. You'll likely be using larger amounts of the products and using the products more frequently. A deep conditioning masque can really help moisturize a wig in a way that standard conditioner cannot. Deep conditioning masques can be done once a week at your discretion. When you go from an indoor location to an outdoor location in winter months, which is obviously unavoidable, your wig will lose moisture. Deep conditioning the wig will help maintain the moisture.
Keep It Covered
Part of your nightly routine before going to bed should be making sure that your wig is properly cared for. Cover your wig with a satin scarf or bonnet to help keep it moisturized overnight while you sleep. You should also be aware of what clothing you wear in the winter and how it might affect your wig if it is brushing up against it. For instance, wool outerwear is common in winter months but it can cause your wig to tangle and break because of the roughness of the material. Wrapping your hair underneath a silk scarf will help avoid this.
To find the best wig option for you, visit Stylistics Inc. We can help you find the wig that will help you feel and look your absolute best this holiday season.