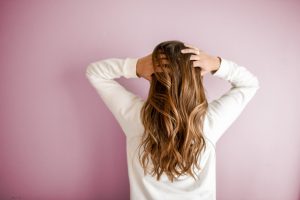 The lifespan of your hair extensions is typically determined by how well they're taken care of. If you're trying to find a way to increase the longevity of your hair extensions, and keep them in their best condition, we're here to help!
Here are a few simple tips that will help you properly care for your hair and hopefully increase your extensions' longevity:
Limit the Use of Heat
Adding heat to your hair can lead to damage. Of course, you can still use heat to dry and style your hair, but be mindful of how often you're doing it. Always comb through any tangles in your hair extensions and protect your hair using a heat protectant beforehand. If you can, it's encouraged to let your hair air dry instead of blow-drying. 
Don't Forget to Moisturize!
Always keep your extensions well moisturized to help extend their life. You have to treat your extensions differently from how you treat your hair because the natural oils in your hair won't get to your extensions. When applying your conditioner, do it in a downward motion. Rinse the conditioner out with cold water and gently towel blot dry to help remove any excess water. 
Avoid Dying Your Extensions
If done correctly, dying won't ruin your extensions. However, remember that dye is a chemical process that interferes with your hair and extensions' chemical structure. If you are changing up and dying your hair a lot, your hair can get damaged. Always purchase your extensions in your preferred hair color and avoid dying them. 
Store Extensions in a Safe Place When Not in Use
After you take your extensions out for the night, it's best to store them in a clean, dry place. The box that they came in is a great place to store them when you're not using them. However, always make sure that they are combed and dry before you put them back in the box! 
Purchasing Hair Extensions
When it comes to human hair extensions in Phoenix, AZ, you can always rely on the professionals at Stylistics Inc. Let us put our decades of hair extension knowledge to work for you! Contact us online or call us today at 602-234-3381!