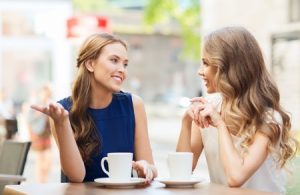 If you've ever told someone that you wear a wig on a regular basis, you've probably seen how some people really don't know how to handle it. Many people think that wearing a wig is "taboo" and in fact, can come off as insensitive when they meet someone that does.
Although wearing a wig is your business, it's important to know how you can best respond to wig-aimed questions that might make you feel a bit awkward or uncomfortable.
Most people that don't wear a wig probably don't realize that asking someone if they do wear a wig can make someone feel uncomfortable or exposed. If someone asks you "Are you wearing a wig?" you can respond politely with, "Why do you ask?"
In most cases, the person won't know how to respond and as a result, will back off. If they asked you on impulse, they will be forced to think about their question which might force them to think about how the question made you feel. By asking them why they want to know, they can decide if they have a justified reason. If someone is looking into getting a wig, they might have a genuine interest in knowing where you go for yours. If someone is simply curious, they might respond with "sorry, it's none of my business."
However, do your best to keep your composure when someone does ask you, especially a friend, because you never know what their reason might be. Someone might be dealing with hair loss and is seeking out a solution for it. If a stranger approaches you and asks, it can be a little bit awkward but be honest. A wig is nothing to be ashamed of and you should never allow anyone to make you feel like it is. Sharing your experience with others might encourage them or give them the strength to deal with their own personal issues.
If you're at a social gathering with friends and acquaintances, and someone asks about your wig, politely change the subject if you're not comfortable discussing it. Most people, willing they have a bit of tact, will get the hint.
Are you looking for relief from hair loss? Stylistics is a full service hair salon located in central Phoenix, offering a wide variety of services for individuals suffering from hair loss.