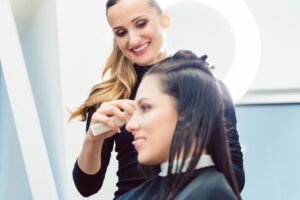 One of the most important parts of getting your hair styled is having great communication with your stylist. For some, especially if you are quiet or timid, it may be hard to speak up and tell them exactly what you want and how you want it done. However, any type of miscommunication could possibly lead to an undesired look making you feel insecure or self-conscious. Nobody wants that!
Below we describe how to best tell your stylist what you want:
Do some research
In order to prepare for your hair appointment, you should make sure you know exactly what you want beforehand. Do your research and decide what style is best for your hair type and face shape. This way, you won't be wasting time trying to explain to the hairdresser what you think you want, or not having a clear articulation of what you want it to look like.
Bring pictures
It may be helpful to bring in a picture of the hairstyle you want. This way, the hairdresser can actually visualize what you want and replicate it on your hair. This can also save the time you would spend trying to properly communicate how you want your hair to look with your hair stylist.
Ask questions
In the process of deciding on a new hairstyle, ask for your hairdresser's opinion. You may be set on a particular look in the beginning, but after talking with your stylist you might change your mind. Your hairdresser will likely have an opinion that is best suited for your hair type and face shape. That being said, it is just as important to be as honest as possible when getting a new hairstyle. If your stylist makes a suggestion that you aren't too sure about, it is perfectly fine to tell them that you'd like something different. It is your hair, after all!
At Stylistics Inc., we offer hair extensions, Brazilian blowouts, and more to make your hair look its best. Look through our website today to get started!