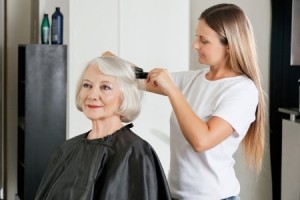 Here at Stylistics, Inc. we are excited to announce our latest hair loss solution certification: REVIVE. This patent pending hair integration system is unique, because it does not require women to shave the tops of their heads to wear it.
Hair loss can be stressful and embarrassing, and with so many women suffering from this condition, REVIVE can provide women with the option to use a hair piece when they would like and leave their hair natural other times.
Designed by Bobbi Russell and professionals at EasiHair, this hypoallergenic hairpiece is crafted using 100 percent Remy human hair. Made up of three separate pieces, the template polyurethane ring and 14 inch long hair piece, the REVIVE top of the head hair extension system will be professionally fitted to your head's shape and size, with extensions that clip onto your natural hair. With proper care, a REVIVE hair piece will last from six to 12 months and can be reused up to eight times.
For the past 24 years, Stylistics has proudly provided hair loss solutions for men and women in the Phoenix, Arizona area in a private and comfortable environment. A solution for individuals facing intermediate and advanced stages of hair loss, REVIVE will be available at our shop beginning on September 8, 2015. To learn more about this new hair replacement option and to set up an appointment, contact us online or by calling 602-234-3381.