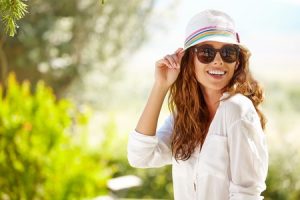 As the temperatures continue to climb here in Phoenix, it is clear that summer has arrived! And while we all enjoy relaxing poolside or at the beach, it can be tricky to keep your wig in its best shape with the sun beating down on it.
Wash Regularly
Although we normally warn against washing your hair replacement piece too frequently, summer is one season where regular washing is required. Hotter temperatures can cause a buildup of oils and perspiration inside your wig, so keep clean and fresh by washing every few wears and using plenty of conditioner to keep the heat from doing extra damage.
Change Your Cap
If your wig isn't providing as much ventilation as you need during the summer months, you may want to consider a different style cap to provide relief as temperatures soar. Stretch cap, capless or integration system may keep you cooler than your traditional wig cap can.
Try a Shorter Style
If you always enjoyed cutting your natural hair short in the summer months, why not do the same thing with your hair replacement piece? Choosing a shorter style will keep your head and neck cool while also letting you experiment with a fun new 'do.
And the best part about choosing a shorter wig option for summer? You don't have to wait months for your long hair to grow back in. All you have to do is swap styles!
Keep Covered
Sun can cause just as much damage to your hair replacement piece as it can to your natural hair, so be sure to take some extra precautions before heading outside for a day at the beach. Hats and headscarves are two stylish ways to keep your scalp cool and your wig protected from the sun's summer heat, and there are styling products you can purchase for extra protection.
If you are searching for advice on how to keep your head cool and your wig looking its best throughout the summer season, schedule an appointment with Stylistics at 602-234-3381. A full-service hair salon, we can assist you with everything from fitting your hair system to cutting, styling and coloring it.