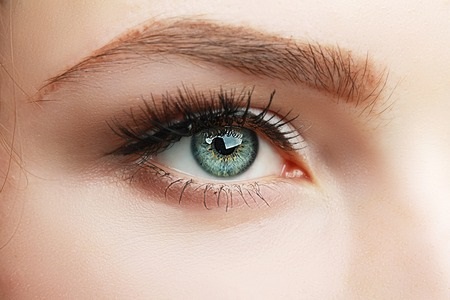 If you're dealing with thinning hair on your head, you may also be experiencing thinning hair in other places. Once your hair starts thinning, you may notice that your eyebrows are thinning as well. If you previously plucked your eyebrows to be thin or you are experiencing hair loss, it can be hard to get the hair to grow back.
For many women, losing hair in their eyebrows is just as concerning as losing hair on their heads.
Luckily, there is a new option on the market for people who are dealing with hair loss on their eyebrows.
You can say "goodbye" to the thin, penciled brows and say "hello" to eyebrow wigs. According to Glamour, makeup artist Hung Vanngo invented eyebrow wigs which are basically adhesive strips with realistic looking hair attached to them that are a wig for your brow. They just simply need to be trimmed, placed and affixed to your forehead for an all-day wear.
The best part about an eyebrow wig is that it's a non-permanent solution, which means you don't have to go through painful replacement therapies on your forehead in order to have realistic-looking brows.
For women who have hair loss due to cancer treatments or for women just experiencing general hair loss, eyebrow wigs are a great, non-invasive option to help you feel your best.
Stylistics Inc. is a full service hair salon, offering a wide variety of services for individuals suffering from hair loss.