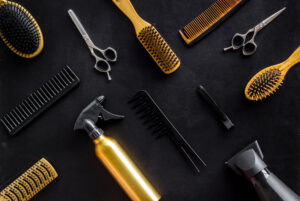 Winter weather, too much sun exposure, and chlorine are just a few ways that you can naturally dry out your hair. If you've noticed that your hair is looking extra dull, dry, and weak, there are a few things you can do to help heal your damaged hair.
Here's a list of a few of our best tips: 
Carefully Choose Your Shampoo
To get the best results out of your shampoo, you should pay close attention to the ingredients listed on the bottle. Many shampoos contain sulfates which are used to remove dirt and oil from your hair. However, sulfates are damaging and can do more harm than good. Instead, use shampoos that are labeled as sulfate-free.
Add Moisture Into Your Routine
After you shampoo, make sure you're using a conditioner specifically designed to repair your damaged hair. Usually, deep conditioners work the best and only need to be used once or even twice a week.
Trim Your Split Ends
There are quite a few different products you can use to help treat your split ends. However, the best way to manage your split ends is to get regular trims with your hairstylists. Regular trims will help keep your hair healthy and luscious.
Ask a Professional for Help
Once your hair is damaged, it can be difficult to repair. Visiting a professional for hair treatment can have the best results for your hair. Your trained stylist can apply the best ingredients to your dry, damaged hair, and you can usually see results rather quickly.
At Stylistics Inc., we offer a Brazilian Blowout and Keratin Treatment to smooth and repair your frizzy hair. When you take advantage of our hair smoothing method, you will notice frizz-free hair for up to 3-4 months.
If you're curious about our Brazilian Blowout Treatment, contact us today for more details!