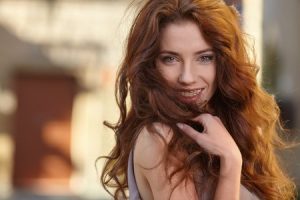 Valentine's Day is a great excuse to get all dressed up for a fun evening out with your special someone. Hoping to sweeten (or spicen) up your look this Valentine's Day? There are plenty of different hairstyles available that can really help you achieve a new look for a romantic night out.
We have two romantic date-night hairstyles that work with a variety of hair lengths and texture types:
Romantic Waves
Romantic waves, also referred to as really loose and soft looking curls, have become quite popular this past several years, especially among celebrities. Romantic waves are a low maintenance hairstyle and it is easy to accomplish.
1) Making sure that your hair is dry, create a deep side part and spray throughout your hair with a strong hold hairspray at least 8-12 inches away from the scalp.
2) From the front to the back of your head, wrap two inch sections of your hair around a curling iron that has a thickness of one and a half inches. Start from the root with the hair, making sure it is flat so it creates a curl. Point the curling iron and the curl away from the face.
3) For the finishing touch, spray and cover with hairspray and then brush out lightly. (You can smooth the waves with a fine tooth comb)
Tendrils
Soft tendrils can be easily created at home as well. These curls will be a bit tighter than loose waves and provide a dramatic look for women that typically have poker straight hair.
1) With towel-dried hair, work in a decent amount of your favorite styling moose.
2) When your hair is completely dry, mist it with a scrunch hairspray about 6 to 10 inches away from the scalp. The mist will give your hair nice and touchable curls, and it will also strengthen and maintain the curls so they last through the evening.
3) Shake out your hair and then flip your hair to the side of your face that you prefer. Finish with a curling iron to make more formed curls.
You can get more information about these hairstyles and more here.
Hoping to change up your look with a Brazilian blowout or hair extensions?  Visit Stylistics Inc., a full service hair salon located in central is a Phoenix, AZ.