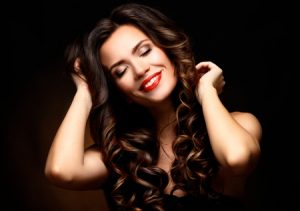 Have you ever wished you had long, luxurious locks? You, too, can have the mane of your dreams—all it takes is some quality hair extensions. Read on for a few benefits that come with hair extensions:
Hair extensions can give you the length you've always wanted.
Many of us have hair that just will not grow past a certain point, no matter how gentle and careful we are. While this can be frustrating, hair extensions can easily and safely bond to your hair to give you the length you've been dreaming of.
They can also quickly undo the dreaded hair cut you never wanted.
It's happened to everyone. You go to the salon asking for "just a trim" and walk out with a hideous 'do. Extensions can mask this unwanted effect and have you looking like yourself again.
You can try new things, without the commitment or the damage.
Ever wanted to try hot pink streaks in your hair, or an edgy asymmetrical cut, but don't want to commit? Hair extensions can switch up your look temporarily and won't damage your hair like harsh dyes can.
They give you va-va-voom volume.
Age, health and a variety of other factors can lead to thinning hair. This may affect your confidence, but hair extensions can come to your rescue, making hair look fuller and thicker.
At Stylistics, Inc., we offer an exciting selection of hair extension systems to suit every need and every budget. Whether you want a bit more volume to counteract hair loss, or want to go all out with long, flowing waves, we can help. Call us at 602-234-3381 to find out more.