While many are rejoicing over Pantone's pick of Radiant Orchid as the color of the year, those of us in the beauty interested are much more keen to learn what the experts are predicting for the "it" hair color of 2014. Luckily for us, lead colorist at the Oscar Blandi Salon, Kyle White has been able to shed some light on what we should be expecting in the coming months.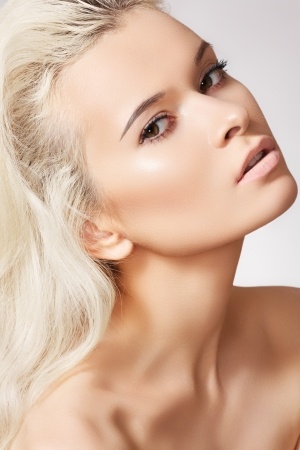 In White's expert opinion, he's predicting 2014's hot hair color trend to be platinum blonde. We've seen this trend take form on some of today's biggest celebrities, such as Miley Cyrus and Elle Fanning, and have even seen stars like Kim Kardashian forgo her signature dark locks for a lighter look this year. According to White, this is a recurring pattern; we see it in on the runway first, them on the celebs and then as it catches the attention of editors and stories start to be written about it – well then you've got yourself a full blown trend.
Aside from the platinum look, White is also predicting that we will be seeing a domination of monochromatic color. Instead of in-between shades and different shades that end up washing us out, we're going to see strong power colors that demand attention. What's even more, although we won't be seeing the end of the beloved ombre trend for good just quite yet, we will be seeing a slight shift. Instead of hard lines and defined light tones all over, we'll be seeing more subtle gradations of color. Think depth at the roots and lighter tips.
So what do you think about Kyle White's predictions? Let us know or simply make an appointment with Stylistics Inc. today and make a resolution to own the platinum trend this year!
(Posted by: Dori McKinnon of Stylistics Inc.)