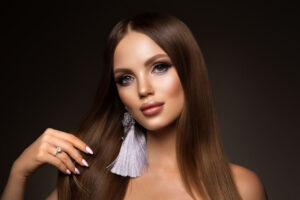 A Brazilian blowout is a liquid keratin treatment that can reduce frizz, seal cuticles, and protect your hair from damage. It essentially creates protective layer around each strand of hair that gives it that quintessential, glossy veneer. But the benefits don't stop there. Here, we discuss the top three reasons why you should consider a Brazilian blowout.
There's no down time
With most other keratin treatments, you can't wash your hair or even put it up in a ponytail for several days afterwards. Not so with a Brazilian blowout. There is no down time, meaning you can wash it, put it in a ponytail, or style it any which way you want immediately after the treatment. If you plan on washing it, just be sure to use sodium-chloride free shampoo.
It's customizable
While a Brazilian blowout can make your hair completely straight, that isn't all it can do. You can decide how much or how little you want to retain your curls. You can keep a few waves, reduce frizz, or simply tone things down a bit. It's all within your control.
A treatment that lasts
A Brazilian blowout will last 3-4 months. That means you can go about your daily life without having to worry about frizz, curling, or damage. You'll notice it wearing off first around your hairline. While you can get your blowout redone at this point, you don't have to. There is no clear demarcation between previously treated hair and new growth, meaning you can let your hair grow out a bit without worrying about how your hair might look.
Stylistics Inc. is a certified specialist of Brazilian blowouts. So, if you're in Phoenix, AZ and looking for a Brazilian blowout, contact Stylistics Inc. today!