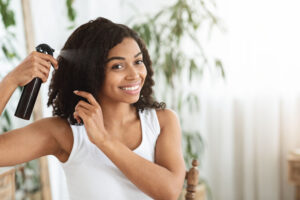 When it comes to styling our hair, even the best of us have experienced our fair share of mistakes. However, the mistakes we tend to make aren't always as monumental as a bad haircut. In fact, nine times out of ten, we don't even realize that the things we are doing are actually bad for our hair.
Below, we've listed some of the top hairstyling mistakes you need to avoid on a daily basis:
Doing Your Hair in Bathroom
This is something extremely common; most everyone styles their hair in the bathroom simply because that is likely where they store all of their tools and products. The reason why this may not be such a good idea is because any time you use a hairdryer, straightener or curling iron right after showering, it's like doing your hair in a steam room. There's no ventilation for your hair to breathe and cool down before succumbing to all that humidity.
Overusing Dry Shampoo
Of course, this is great when you skip a wash here and there, but you don't want to use too much of the oil-absorbing spray. Not only can this cause your hair to look and feel completely dried out, but it can also lead to unsightly buildup around your scalp.
Turning Up the Heat on Your Styling Tools
In order to reshape your hair and seal the cuticle, the best temperature to heat your styling tools to is 350 degrees. However, just because these styling tools have the capability to heat to much higher temperatures doesn't meant we should be cranking up the heat. Be aware of how long you're leaving the heat on your hair and be sure to spray your locks with a protecting spray before styling.
Using the Wrong Brush
Hairbrushes are not one size fits all. While wet brushes are designed to comb through wet hair faster and paddle brushes help to detangle long hair, boar-bristle brushes polish the cuticle layer of each strand for optimal smoothness. If you want your hair to look it's absolute best, choosing the right brush is a great place to start.
For more tips about proper hair care and styling, don't hesitate to your ask your stylist at Stylistics Inc. today!