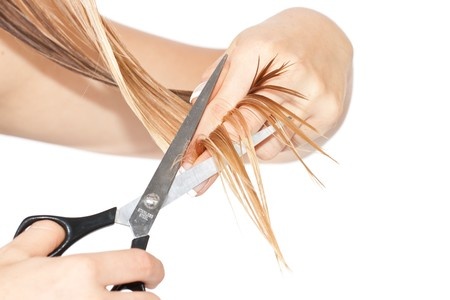 Getting a haircut is pretty much a basic human need, unless you willingly choose to grow your hair out to reach the ground. Though this is such a simple task, there are many ways in which it can go wrong; that's why we have hairdressers. In order to maintain healthy and clean hair, it is essential to get your hair trimmed occasionally. Once in a while, trimming your hair on your own has the potential to save you money. A simple trim can be easy and quick right at home. Here are some of our tips:
5 Quick Tips for Trimming Your Hair
»        Know how much hair you will be trimming or cutting off and always go for less. You can cut more off, but you can't put it back on.
»        Have a trusted friend close by in case you need assistance
»        Have two mirrors handy in a well-lit area. Use one to see the back of your hair to make sure it's even.
»        Don't try to achieve a completely new hairstyle. These "big cuts" are best left for the professionals.
»        Cut your hair when it's dry instead of wet
Don't try to get too extravagant with your haircut. Also, don't try to cut pieces that are out of your sight. There is no way that that could end in a clean, straight haircut. If your hair is thick, you will want to stick to cutting small sections of hair at a time. This will provide you will a straighter and more even cut.
Special Hair Care at Stylistics
Stylistics Inc. is a hair salon located in central Phoenix, Arizona that focuses on services for all of your basic and unique hair needs. With the calming and tranquilizing atmosphere, you will feel as if you're at your own personal spa. Stylistics Inc. offers specific one-on-one work that will work towards your hair needs. A few of our unique services include hair replacement, Brazilian blowouts, and Follea Wigs. Visit our site for more information.