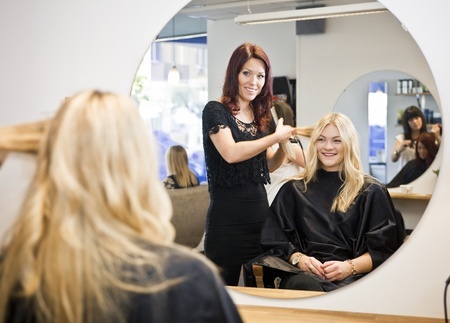 Whether you are looking into purchasing a wig or extensions, you have probably heard the term "Remy" before. Remy hair is human hair with the cuticles still intact and all facing the same direction. A top of the line hair replacement choice, it creates a smooth and natural appearance for women who are looking to solve their hair loss problems.
Intact Cuticles
Each strand of human hair is composed of layers, the outermost of which is called the cuticle. A strong layer of overlapping cells that protect the strand, cuticles keep the hair from tangling and create the smooth texture we love in long, luscious hair. Remy hair is gathered in ponytails, ensuring that cuticles are in the same direction and the roots can be distinguished. This creates the smooth, durable and long-lasting wigs and extensions that provide a natural appearance.
Virgin Hair
The most high quality Remy hair is also virgin hair, which means that it has never been processed. Virgin hair has never been colored and no chemicals have been applied, making it the most desirable and natural for the creation of hair replacement pieces.
Styling
You can style this type of human hair like you would your own hair, using a curling iron, hair straightener or blow dryer. Change your look on a day to day basis and feel confident with a full, natural head of hair.
To learn more about Remy hair and the selection of Remy wigs and hair extensions that Stylistics, Inc. carries, contact us at 602-234-3381.
Sources: http://www.ebay.com/gds/Remy-Hair-Extensions-Defined-/10000000011799644/g/