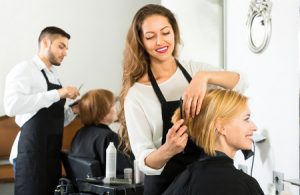 Even if you have been wearing hair replacement options for years, you may have never been to a salon that specializes in hair replacement services. Maybe you have always purchased your wigs online, and maybe you have stuck with the same stylist you visited before your hair loss journey began. Whatever the reason, Stylistics, Inc. encourages you to take the time to find a hair replacement salon near you.
The reasons to do this are endless, but here are just a few of the most important ones for you to consider.
Knowledge
When it comes to hair replacement, there is a lot to learn! Not only are there many different types of hair replacement pieces; like hair extensions, lace front wigs and integration systems to name a few. But there are also many different wig brands – each of which has its own unique qualities to consider when searching for your perfect hair replacement option.
All these variables leave many questions to be asked, and a knowledgeable stylist who focuses on hair replacement technology will be able to answer your questions and find the right solution for your specific needs.
Experience
From cutting to coloring, styling a hair replacement piece is very different from styling a person's natural hair. When you work with a hair replacement specialist, you will receive the best care possible for your wig – ensuring that it is cut, colored and styled for the perfect fit. The right stylist can works wonders on a wig, helping to create the most natural look possible. Not only will experienced care reduce the worry and stress you feel wearing your hair replacement piece, but it will also help to better maintain your wig for years of wear.
Understanding
A salon that specializes in hair replacement understands the hair loss struggles that you are facing, and is happy to help you overcome them to look and feel like the beautiful, incredible woman that you are! For individuals in the Phoenix, Arizona area searching for hair replacement help, Stylistics Inc. is here. With years of experience in a wide variety of hair replacement services, Stylistics provides one-on-one sessions for a comfortable, positive experience. To schedule your appointment, please call 602-234-3381.