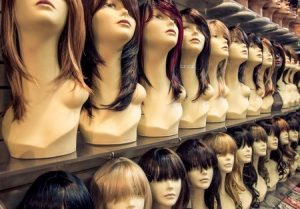 Wigs and extensions are a great way to change up your look and make your hair appear fuller and longer. As you acquire more hairpieces it can become difficult to manage and store them all. There are a few different ways to store wigs. You can either display them or store them discretely.
Here are a few wig storage options:
Prep Before Storage
Before storing your wig, be sure that it is clean, dry and fully detangled. This will make your hair last as long as possible.
In a Drawer
If you don't have a lot of space, you'll probably want to use a storage solution that keeps your wigs neatly tucked away. Placing them in a dresser drawer is a great space-saving option that will also ensure that they are kept safe. Before placing them in a drawer, be sure to fold your wig neatly, from ear to ear and then place it into a wig bag.
On Display 
Displaying your wigs is perfect for the wig wearer on-the-go. To store your wigs on display, use a mannequin head or wig hanger. With this option, you can place your wig on an artificial head. This will ensure that it is ready to wear at all times. If you store your wigs this way, you may have to brush them periodically, so they don't get tangled or accumulate dust.
Hanging in Closet
Another great storage solution for wigs is to use a wig hanger. These wig hangers allow you to conveniently store your wig by hanging it up. The wig hanger is also great if you have recently washed the hair, this will allow it to hang as its air dries.
With these simple storage solutions, you can save space in your home and prolong the lifetime of your wigs and extensions.
Be sure to check our blog for more healthy wig and haircare tips.
Stylistics, Inc. specializes in a variety of hair care essentials for all styling needs like haircuts, Brazilian blowouts, hair extensions, hair replacements, and wigs. Contact us at 602-234-3381 for hair care services in Phoenix Arizona!