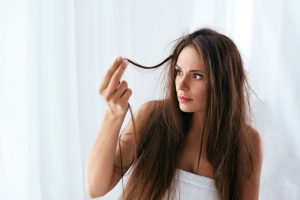 Everyday wear and tear can wreak havoc on your hair. Between heat styling, chemical processing, and routine hairstyles – your hair can face a significant amount of damage. Split ends occur after the hair cuticle becomes damaged and begins to tear. This leaves the core of your hair exposed, which can cause further breakage. It is best to address this issue as quickly as possible.
Here are a few tips for avoiding split ends:
Be Careful Washing & Drying
Your hair is most sensitive when it is wet. The drying process can be the cause of a significant amount of damage to your hair. When washing your hair, be mindful of how you are handling it.
Do not aggressively lather, but smooth the shampoo or conditioner in your hair from root to end. Gently detangle with your fingers, starting at the bottom and working your way to the tip. If you have damaged ends, pay special attention to them and be sure to condition them fully.
If possible, avoid heat. The heat from blow dryers and other styling tools can damage your ends over time. Give your hair a break by air drying. When you finish washing your hair, gently wring it out and then use a microfiber towel or a cotton t-shirt to absorb the excess water. The texture of a terry cloth towel is too abrasive on hair. It absorbs natural hair oils, which dries out your hair and also causes it to become frizzy.
Moisturizing Treatments
Most hair damage is due to dry or over-processed hair. Give your hair a moisturizing treatment to help restore your tresses. There are a variety of hair care treatments you can do at home, like a hot oil treatment or create your own moisturizing hair mask!
Here is a simple hair mask you can make at home:
Ingredients:
½ Avocado
1 Egg
Olive Oil
Directions:
Start by cutting the avocado in half. Scoop one half of the avocado into a bowl and mash it up.
For a smoother consistency, you can whip it with a hand mixer.
Avocado is rich in Vitamin A, D, E, and proteins that help add moisture to your hair.
Next, add the egg.
The egg is also another source of protein that helps strengthen your strands.
After adding the egg, add olive oil and whip until it is the consistency of a thick conditioner.
The olive oil acts as a sealant and helps seal in all the moisture and protein from the egg and avocado.
You can apply this mask to your whole head or just the ends. Let the mask sit on your hair for at least 20-30 minutes.
Gently rinse the mask from your hair.
This hair mask will help keep your hair strong and healthy, thus preventing split ends. The only true way to repair damaged ends is to cut them off! Preventative measures will help keep your hair healthy and ends moisturized to avoid further damage.
Stylistics, Inc. in Phoenix Arizona specializes in maintaining hair, dealing with hair loss, and hair replacement services. Be sure to check out our blog for more hair care treatments and tips!