Since the dawn of humanity, people have been troubled with the loss of hair due to disease, heredity, age and scarring. If you are experiencing hair loss, you are probably considering different hair restoration techniques. You don't have to feel defeated or self-conscious with your hair loss; instead, turn your disadvantage into an asset with one of the many different remedies available!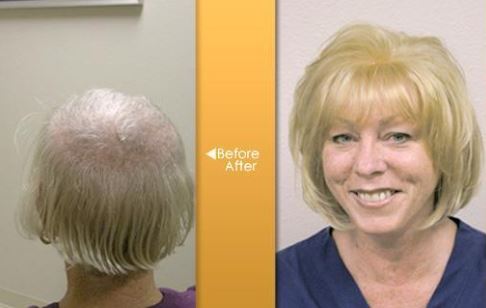 While there are many different options to help repair hair loss, (some more invasive than others) there are a couple of services that we offer right here in our salon. Our favorite, CyberHair, is the most revolutionary hair replacement method available. This product outshines all similar brands and is even perceived to be better than human hair. In fact, human hair has the shortest life span of all hair types. For the hair of your dreams, choose CyberHair.
With CyberHair, you don't have to worry about Mother Nature and her rain, snow or hail storms – this type of hair looks great dry or wet. A hot, humid evening or a sweaty run in the summer heat – leave your worries for another day. CyberHair is designed to withstand the elements, leaving you feeling like a "Perfect Ten."
So how exactly does it work? Private Issue by CyberHair contains style memory which causes the hair to reclaim its original style after getting wet, unlike your own hair. It is also lightweight, so much so that it is actually the lightest hair available on the market which provides you the ultimate comfort. Unlike human hair, Private Issue is colorfast and will not fade or oxidize. Say bye-bye to those frequent root touch-ups!
For the man or woman losing their hair but not their sense of style, CyberHair is the remedy you need that will have you feeling like your old self again, but with a fresh set of locks!